Accredited Environmental Solutions (AES), New York state licensed inspectors, will establish the presence or absence of asbestos through a visual inspection, bulk sampling and lab analysis. If asbestos is detected, the report will indicate its location and a hazard assessment of each asbestos containing material (ACM), including whether or not the material is friable. Depending upon the hazard level, Accredited will recommend response actions.
Can You Afford Not To Inspect?
Accredited Lead Inspection, Inc. d/b/a Accredited Environmental Solutions inspectors are licensed as asbestos investigators in both New York State and New York City and can perform all phases of asbestos surveys.
Who Would Benefit From an Asbestos Inspection?
Architects, builders, contractors seeking a NYC permit requiring an ACP5
Contractor seeking an asbestos free certification to demo a building
Homeowners requiring a clean-air certification for a utility company
Home seller real estate agent trying to eliminate all roadblocks to the sale
Home buyers wanting to verify potential asbestos products in their home inspection report
Contractors or Architects prior to renovations or disturbing paint
Is That Pipe in Your Basement Wrapped in Asbestos?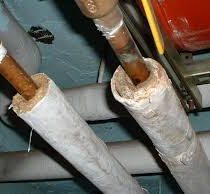 Only laboratory analysis can answer that question. In New York State only a NYS licensed asbestos inspector is allowed to sample the material and have it analyzed by a certified laboratory.
Building Demolition
An asbestos survey or inspection is required prior to any building/structure demolition, remodeling, renovation or repair. All suspect materials must be presumed to contain asbestos unless tested.
Asbestos Inspection or Survey Requirements
An asbestos survey or inspection is required prior to any building/structure demolition, remodeling, renovation or repair. All suspect potential asbestos containing materials (PACM) must be presumed to contain asbestos unless they are tested.
The asbestos survey or inspection will at a minimum, identify the locations, quantities, friability and conditions of all types of Potential Asbestos Containing Material (PACM). A licensed Accredited Environmental Solutions asbestos inspector is responsible for identification and assessment of all types ACM, PACM throughout the building or portion of the building that is to be demolished, renovated, remodeled or repaired.
The asbestos investigation process starts with a thorough examination of the architects drawings or plans. All potential asbestos containing materials (PACM) that will be disturbed during the demolition phase will need to be sampled. The list of PACM and number of samples of each component to be tested are prescribed by NYS/NYC regulations.
The inspector will sample all required materials and then bring them to our certified laboratory for analysis.
Upon receiving laboratory results, if no asbestos is present in any of the materials sampled, Accredited Environmental Solutions will issue a report to be filed with your local building department in order to receive a permit for renovations or building demolition. The asbestos report will be signed by a licensed New York City Asbestos Investigator and emailed directly to the client, architect or expeditor. The ACP5 form is filed electronically with the DEP and is required by the New York City Department of Buildings (DOB) before the construction permit will be issued.
To perform an asbestos inspection in New York State but outside of New York City you must be a NYS licensed asbestos inspector. To perform an asbestos survey or an ACP5 inspection in NYC you must be licensed by both NYS and NYC licensed.
As asbestos-containing products are still available in the marketplace today, building owners and professionals involved in building construction, whether new or renovation, should ensure that building materials used on their projects have been determined to be non-asbestos-containing and that documentation (test results, manufacturer's certifications etc.) ascertaining their non-asbestos status be maintained in the building's records.
Learn more about New York City ACP-5 Asbestos Investigations.